About AcademicJobsOnline
Login to AcademicJobsOnline
Serving academic institutions worldwide for over 9 years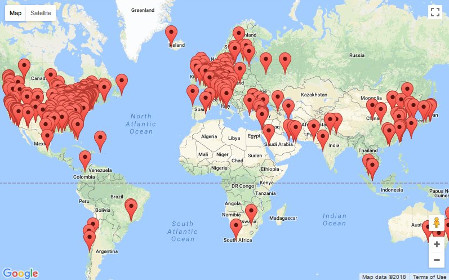 News & Announcements
(02/19/2015 yu to all) European Promotion. To promote AcademicJobsOnline in Europe we are offering European universities and colleges 10 (or more) free job advertisements for one year if your university or college signs up as a new institutional member, which will let you try out our services without any cost. This offer ends on 2015/12/31 and it only applies to whole university/college level institutional memberships, not departmental level memberships. Once a university/college has signed up, all departments can use our services under the institutional membership; it's OK if only some departments or research groups within your university want to use us for now. Please contact us if you have any questions.

(05/30/2013 yu to all) Free eDelivery Service. We are happy to announce our new free eDelivery service. This service is to help applicants deliver application materials, including the reference letters, to employers who are not currently using our full online services. It saves applicants in dossier delivery costs, simplifies the letter management for the reference writers, and it's totally free for both employers and applicants. To use this service, an employer just needs to sign up. Once we have verified your identity and approved your request, you can receive any application materials electronically by simply directing applicants to https://academicjobsonline.org/ajo/edelivery/your_group_number in your job ads; and you'll get notified for any new deliveries, and download the application packages in one simple step or set it up to let the system download them for you automatically.

(04/29/2010 yu to all) Institutional Memberships. We are happy to announce that we are now offering institution/school level memberships, which enable a school or university to sign up for a membership for all its departments (groups) to use. The institutional membership represents a significant cost saving over the multiple departmental memberships within the same institution; and it enables you to have better control over the whole hiring process at the institution level, to make sure your institutional hiring standards and data collection requirements are met. For example, you can enroll any numbers of departments without additional cost, create a school-wide EEO/AA form and collect all the EEO/AA and EEO compliance data in one place, ensure all job ads follow a standard template or approve all job ads before posting, configure additional questions for all applicants or all hiring managers, or export all application data in all groups to your own databases or 3rd party systems via XML feeds systematically.

Privacy Policy/Legal Statement
: Security and privacy are our top priorities and we are doing our best to comply with relevant data protection regulations, to preserve your privacy and to make sure your data is available only to the intended parties. No others shall be granted access to your data unless required by law; and you will be notified by email as soon as possible if such access becomes necessary. Data is collected and used for the sole purpose of facilitating the application/hiring process. In no event shall the developers or the sponsors or the service providers be liable for any damage claims and expenses this service might or might not cause. Users (including applicants, referees, employers and all others) are solely responsible for the appropriateness, completeness, correctness, lawfulness and availableness of their data. This service is provided "as is", without any warranty (either expressed or implied, including, but not limited to, the implied warranties of merchantability and fitness for a particular purpose). This site uses cookies for user session management. By accessing any services at this site, you acknowledge and agree to these conditions.
---
© 2015 AcademicJobsOnline.Org. All Rights Reserved.