Edmund A. Walsh School of Foreign Service, Georgetown University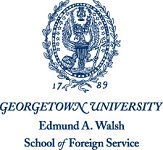 The Edmund A. Walsh School of Foreign Service, founded in 1919, is a premier school of international affairs. At Georgetown's Washington, D.C. and Qatar campuses, SFS provides a rigorous education combining theory and practice and instills the values of service. For more information about SFS, visit
sfs.georgetown.edu
. SFS embodies the values and spirit of Georgetown University. A Catholic and Jesuit, student-centered research university, Georgetown educates women and men to be reflective lifelong learners, to be responsible and active participants in civic life and to live generously in service to others. For more information about Georgetown, visit
georgetown.edu
.
For applicants using the online dossier service Interfolio, step-by-step instructions for uploading letters of recommendation can be found at http://help.interfolio.com/entries/24062742-Uploading-Letters-to-an-Online-Application-System.
With questions about faculty openings at SFS, email
sfsfaculty@georgetown.edu
.
---
[CJCTL] Assistant Professor of Jewish Civilization, Art, and International Affairs
[SSPNTL17] Teaching Professor of Security Studies
[SSPTL] Assistant/Associate Professor of Security Studies
(3 positions listed)
---
© 2017 AcademicJobsOnline.Org. All Rights Reserved.