Georgia State University, Computer Science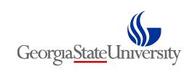 | | |
| --- | --- |
| Position ID: | GSU-CS-LEC [#14114] |
| Position Title: | Lecturer |
| Position Type: | Non tenure-track faculty |
| Position Location: | Atlanta, Georgia 30303, United States [map] |
| Subject Area: | Computer Science / All areas |
| Appl Deadline: | 2020/01/31 11:59PM finished (2019/10/01, finished 2020/08/02, listed until 2020/06/31) |
| Position Description: | |
*** this position has been closed and new applications are no longer being accepted. ***
Georgia State University Department of Computer Science Lecturer Positions The Department of Computer Science of Georgia State University invites applications for multiple fulltime lecturer positions. Each position includes providing teaching and service for diverse computer science students. Successful candidates must be able to demonstrate expertise in teaching Computer Science courses. The Computer Science Department offers programs leading to the B.S., M.S., and Ph.D. degrees. At Georgia State University, lecturers play a significant role in carrying the mission of the university. In this aspect, Georgia State university provides a clear career path that includes opportunities for promotion to Senior Lecturer and Principal Senior Lecturer. This path mirrors the process for tenure-track faculty. Georgia State (GSU) is an urban public research university serving 52,000 students and located in the historic financial hub of downtown Atlanta. Women and minorities are especially encouraged to apply. Application materials are due by March 15, 2020, submitted online at: https://academicjobsonline.org/ajo/jobs/14114. Applicants are expected to have earned PhD. degree or expected to receive their PhD. by July 2020. The anticipated start date is August 2020. An offer of employment, pending budgetary approval, will be conditional on background verification. Georgia State University is an Equal Opportunity Employer and does not discriminate against applicants due to race, ethnicity, gender, veteran status, or on the basis of disability or any other federal, state or local protected class. Application Materials Required: Submit the following items online at https://academicjobsonline.org/ajo/jobs/14114 to complete your application: • Cover Letter • Curriculum Vitae • Research Statement • Teaching Statement • Diversity Statement • Three References (actual letters acceptable but not required, just names and email addresses) Further Info: http://www.cs.gsu.edu Celena Pittman 404-413-5700 Department of Computer Science Georgia State University P.O. Box 5060 Atlanta, GA 30302-5060
Application Materials Required:
Submit the following items online at this website to complete your application:

Cover letter
Curriculum Vitae
Research statement
Teaching statement
Publication list
Diversity Statement
Three references (actual letters acceptable but not required, just names and email addresses )

And anything else requested in the position description.
Further Info:
404-413-5740
25 Park Place
Suite 700
Atlanta, GA 30303
---
© 2021 AcademicJobsOnline.Org. All Rights Reserved.