North Carolina State University, Department of Chemistry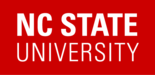 | | |
| --- | --- |
| Position ID: | NCSU-Department of Chemistry-PF [#18582] |
| Position Title: | Open Rank, Professional Faculty - Lecturer/ Assistant Teaching Professor |
| Position Type: | Non tenure-track faculty |
| Position Location: | Raleigh, North Carolina 27695, United States [map] |
| Subject Area: | Chemistry / Chemistry |
| Appl Deadline: | 2021/07/30 11:59PM (posted 2021/05/07) |
| Position Description: | |
The Department of Chemistry, within the College of Sciences at NC State University, is dedicated to research and teaching in a broad range of aspects of the chemical sciences. The Department has strong undergraduate, graduate, and postdoctoral programs. The Department provides professional education for chemists at the undergraduate and graduate levels and teaches basic chemistry courses needed by students enrolled in other department programs. Our impactful and interdisciplinary research programs are supported by significant extramural funds and seek to solve society's grand challenges. Our Department also serves the public by sharing information about chemistry through a variety of mechanisms and services. Essential Job Duties: The Department of Chemistry invites applications for a professional track faculty position at the rank of Lecturer or Teaching Assistant Professor beginning in the fall of 2021. Rank is commensurate with education & experience. Candidates with experience teaching in an online format are also desired. They will devote their time to the education of undergraduates, and will report to the Department Head. Responsibilities of Lecturer/Teaching Assistant Professor: This position will primarily instruct General Chemistry and Organic Chemistry. Outside of teaching, faculty are expected to serve on Departmental committees and serve as academic advisors to undergraduate Chemistry majors. Course responsibility involves all of the following: Presenting engaging course content that fulfills student learning outcomes Developing exams, quizzes, and homework assignments Grading assessments with TA support Holding office hours Coordinating TA activities for course with recitation sections (primarily General Chemistry) Maintaining an up-to-date course platform (e.g. Moodle) Creating assignments in learning management systems Determining and posting course grades Inclusiveness and diversity are critical to the success of the College of Sciences and the University. The selected candidate will be expected to foster an environment that is supportive and welcoming of all groups. Other Responsibilities: Perform other duties as assigned by the Department Head. Minimum Education and Experience: For Teaching Assistant Professor position-Minimum of a Ph.D. in chemistry, chemical education or some closely allied field with a preference for research/teaching experience in organic chemistry or chemical biology. For Lecturer position-Minimum of MS Degree in chemistry, chemical education or some closely allied field with a preference for research/teaching experience in organic chemistry or chemical biology, or equivalent professional experience. Other Required Qualifications: Excellent communication skills. Demonstrated commitment to excellence in teaching. Preferred Qualifications: Degree in Chemistry, Chemical Education or some closely allied field. Experience teaching at the college or university level in Chemistry, Chemical Education or other closely allied field.
We are not accepting applications for this job through AcademicJobsOnline.Org right now. Please apply at https://jobs.ncsu.edu/postings/143725.
Web Page: https://chemistry.sciences.ncsu.edu/
---
© 2021 AcademicJobsOnline.Org. All Rights Reserved.