Oregon Health & Science University, Vollum Institute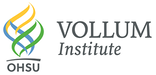 | | |
| --- | --- |
| Position ID: | OHSU-Vollum-AP [#14391] |
| Position Title: | Faculty Positions, Vollum Institute |
| Position Type: | Tenured/Tenure-track faculty |
| Position Location: | Portland, Oregon 97239, United States [map] |
| Subject Area: | Neuroscience / Cellular and molecular neurosciencec |
| Appl Deadline: | finished (2019/08/30, finished 2020/07/05, listed until 2019/12/31) |
| Position Description: | |
*** The account for Vollum Institute, Oregon Health & Science University has expired and new applications are no longer being accepted. ***
The Vollum Institute (www.ohsu.edu/vollum) is undergoing an exciting phase of growth and announces multiple faculty openings for biomedical scientists. We are particularly interested in applicants whose research focuses on neuroscience-relevant topics such as molecular and cellular neuroscience, molecular genetics, circuits and systems in model organisms, structural biology, and glial biology to expand on our current research strengths. Vollum appointments are full-time research positions within the Vollum Institute at OHSU in Portland, OR. Ample opportunities are available for collaboration with basic science and clinical departments within the School of Medicine and additional research units at OHSU (www.ohsu.edu) such as the Oregon Hearing Research Center (auditory neuroscience) and the Jungers Center (disease-related neuroscience). Applications will be accepted at junior and mid-career levels. Candidates should demonstrate enthusiasm for mentoring trainees and establishing an equitable and diverse scholarly environment in their teaching and research efforts. We offer highly attractive start-up packages and the opportunity to work in a close-knit and engaging intellectual setting ideal for innovation and discovery. Candidates with a Ph.D. and/or M.D. and at least several years of postdoctoral experience should apply by submitting their curriculum vitae, a description of research plans and goals, and three letters of reference. Applications must be received by October 15, 2019. OHSU is an equal opportunity/affirmative action employer committed to maintaining diversity in its faculty and addressing faculty family issues including dual career couples and single parents.
Application Materials Required:
Submit the following items online at this website to complete your application:

Cover letter
Curriculum Vitae
Research statement
Three reference letters (to be submitted online by the reference writers at this site )

And anything else requested in the position description.
Further Info:
Vollum Institute
Oregon Health & Science University
3181 S.W. Sam Jackson Park Road, L474
Portland, Oregon 97239
---
© 2021 AcademicJobsOnline.Org. All Rights Reserved.