About AcademicJobsOnline
Login to AcademicJobsOnline
Serving academic institutions worldwide for over 17 years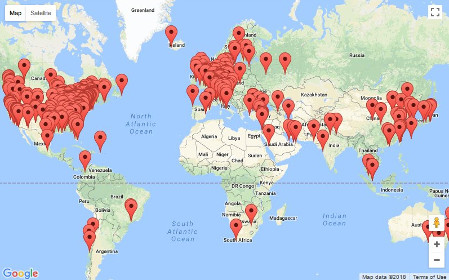 News & Announcements
(11/04/2018 yu to all) Minority Registry. The Minority Registry is meant to connect women and underrepresented minority applicants (URMs) with employers who want to diversify their workforce. Applicants can register by simply checking a box on their coversheet form; you can still register by creating an account first even when you are not applying for any existing positions on this site. Universities and colleges can access the Minority Registry by simply signing up for a free institutional membership if you don't have an account already. Group managers can check the box "We strongly encourage women and underrepresented minorities to apply" on the job posting form to add the job onto the 'URMs' listing on the 'Jobs' page for minority applicants to view. Institutional HR managers and EEO representatives can search the Registry listing (by clicking on the '[URMs]' link) and may notify applicants about opportunities they may have and encourage them to apply. Search committees don't have direct access to the Registry.

(05/18/2018 yu to all) Integration with your university's recruitment system. AcademicJobsOnline is designed to be flexible and it works well for search committee members, reference writers and applicants. Our system also allows universities to set up automated processes to synchronize application data with their local databases and to post job ads on our site automatically using a simple API. This way your university can maintain your recruitment data locally, access a large application pool on our system, and allow your faculty continue using a system they like. Group managers can get more info by selecting "Data Exports" and "Data URLs" from the "Help" menu. Please contact us if your university is interested in using us as a part of your institution-wide recruitment solution and we'll be happy to work with you or your vendors on integration.


Privacy Policy/Legal Statement
: Security and privacy are our top priorities and we are doing our best to comply with relevant data protection regulations, to preserve your privacy and to make sure your data is available only to the intended parties. No others shall be granted access to your data unless required by law; and you will be notified by email as soon as possible if such access becomes necessary. Data is collected and used for the sole purpose of facilitating the application/hiring process for participated employers, and we don't sell or share data with any other third parties. In no event shall the developers or the sponsors or the service providers be liable for any damage claims or expenses or other liability this service might or might not cause. Users (including applicants, referees, employers and all others) are solely responsible for the appropriateness, completeness, correctness, lawfulness and availability of their data. This service is provided "as is", without any warranty (either expressed or implied, including, but not limited to, the implied warranties of merchantability and fitness for a particular purpose and noninfringement, or data accuracy). Employers should see our
License Agreement
for more details. This site uses cookies for user session management only, and they are not required for accessing public data such as job postings. By accessing any services on this site, you acknowledge and agree to these conditions and accept our
Privacy Statement
.
---